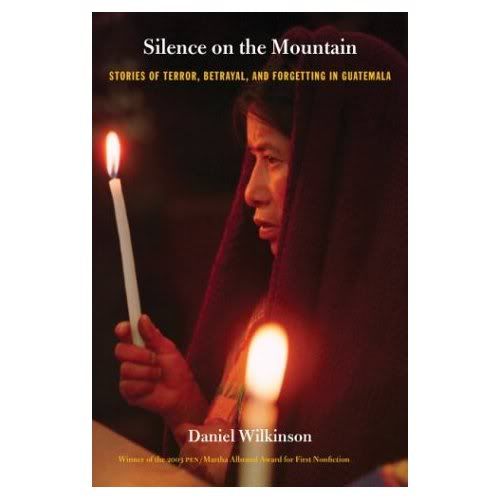 "Silence on the Mountain- Stories of terror, betrayal, and forgetting in Guatemala" is a book written by Daniel Wilkinson who is a graduate from Yale Law School who works for Human Rights Watch. It chronicles his journey through Guatemala on a motorcycle trying to find out what happened there after the CIA coup in 1954 in which the democratically elected government was overthrown. What he meets is a type of collective amnesia. Most people will not speak to him about what went on because they fear repression. This eventually changes when he gets one entire village to open up to him and share their collective stories of a massacre that had occurred there. He talks to people who tell him about the guerilla movement that grew in opposition to the US backed government. They tried to give back the land rights to the peasant population that had been taken away from them.
The Guatemalan government never really had a chance in implementing the agrarian reforms that they planned to pull through in the 1950s where peasants where to get their own land. Much if not all of the land in the country was owned by private land owners and the united fruit company. When the president Arbenz said that he would give some of the land back to the workers a plan was set in motion to take him out. The working system was structured in the following way in Guatemala. Germans had come there in the late 1800s and started coffee plantations. Here people got jobs but where always immediately put into debt. This debt became a trap that they usually ended up paying off the rest of their lives meaning that they where more like slaves. This indebted servitude was something that Arbenz wanted to stop with his land reforms in the 1950s. But with the CIA's help a man called Colonel Carlos Castillo Armas overthrew Arbenz in the operation PBSuccess. Creating a reign of US backed rightwing dictators that ruled the country for 40 years. The amounts of repression that the people of Guatemala lived through during these regimes was immense. It reached its peak in the early 1980s. Then the army started to use its "scorched earth" methods to fight the guerillas. This meant that often whole villages where erased of the face of the earth with their entire populations being ruthlessly killed. Most of these villages where Mayan Indian villages and the contained mainly innocents. About 400 villages where eradicated under this campaign and the genocide was in effect. It is said that 200,000 civilians lost their lives in total during these years. And this is truly the dark side of a guerilla war. That the army has no idea of where he enemy is or what they look like since they are not wearing uniforms and therefore attack civilians as a way of influencing, intimidating and hurting the guerillas as well as the locals. The same thing is starting to happen now in Iraq. That more and more reports are coming in that American soldiers are wounding and killing civilians. But Guatemala is truly a very graphic example of state sponsored terror where rape, violence against women and children, and slaughtering of innocents was used as a weapon. Please read more about this here (its terrifying but important):
http://www.ppu.org.uk/genocide/g_guatemala1.html
This was all done by a government that had full American support and even trained its soldiers at Fort Benning Georgia, the now infamous School of the Americas. America was complacent in the bloody history of Guatemala. On the contrary to Ronald Reagan who gave the most oppressive dictator in Guatemala, Hector Gramajo, his full support, Bill Clinton fessed up and gave the Guatemalan people a formal apology in the late 1990s for his countries involvement in the genocides and bloody history of this poor country. Not that this changes much for the people of that country.
Daniel Wilkinson brilliantly writes, comparing he US experience of terror to the Guatemalan experience: "On September 11th we got a taste of that fear. We were fortunate, however to escape the silence. We were able to denounce the killing, honor the dead support the bereaved, mobilize to rebuild, and, in the process, overcome our fear. If we didn't do these things, we told ourselves, terrorism would have won. We repeated this mantra until it became something we could laugh about. But if we stop to imagine how it actually would have been-recall those moments of raw fear when our buildings and subway stops were evacuated, recall dreading what we might hear on the evening news, recall what its like to be staring out of an office window or riding an elevator or reading a newspaper and feel a sudden urge to cry, and then imagine the danger being so immediate that we couldn't even talk about it, and imagine that the people who where doing this where proclaiming their righteousness to the world, and imagine living like this day after day, year after year, until the most we could hope for was to be left alone. If we do this, we may begin to grasp what hundreds of thousands of Guatemalans experienced during their war. For Guatemala was a place where terrorism did in fact win."
Now the situation in Guatemala is starting to gradually change. With globalization more and more people have started take an interest and see what is happening within the country. Many more human rights activists are working there and it is not possible for the government to implement the same brutal techniques they did before without having an outcry from the international community. The Mayan indians have managed to get an agarian reform where land has been granted them but they are far from finished. They are still working to see that more land is given to them. After reading this book I was both shocked, angered and felt sick. I had always been fascinated by the Mayan indians and loved their art. I even went with my friend Stefan to a Mayan art exhibit in Helsinki in the late 90s. Its only now that I realize their history is closely interlaced with American foreign policy. And its only now that I realized how much these people suffered. These types of human rights abuses are unacceptable.
Comments Off

on Silence on the mountain